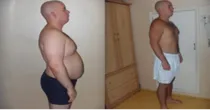 2 of our many Success Stories…
"Wow, what can I say about ChiroThin that could express how wonderful this product is! After the birth of my second child, the weight seemed to just cling on for dear life. I tried everything...there was not a diet around that could budge the excess weight. It was if it had a will of its own. There was nothing I could do that made a difference. Many of you are probably thinking… less calories in and more calories out usually works. That's what I thought as well. For almost a year I worked out three times a week in an intensive martial arts program and walked every day for 30mins. That was combined with 'life style changes' of making better food choices. After a year, I had lost a grand total of 10 pounds.
To be honest, I was depressed and felt hopeless until I tried the ChiroThin Weight Loss Program. It was the first time in 9 years that could see and feel the weight come off! It was AMAZING. I would recommend the ChiroThin Weight Loss Program to anyone who has struggled with weight loss. Thanks Doc!!!"
Angela D.
"I lost 53 pounds in 42 days and have not felt this good in over 15 years. The ChiroThin Weight Loss Program is super easy to follow, which I needed since I am a manager of a local restaurant. When I first heard about this program, my first thought was I'll be starving. That is not the case. The drops worked exactly like Dr Salinas said. I know it may be hard to believe, but I have not been hungry at all and my energy level is through the roof! If you've struggled with being overweight, let me give you some advice: 'Start the ChiroThin Weight Loss Program immediately'! You'll be glad you did. Thanks Doc!"
Roland N.

How much weight can I expect to lose on the program?
Most people will lose between 15-35 pounds on the 42 day program. Everyone is different. It depends on many factors including how much excess weight you have and your specific goals. The fact that our program is doctor supervised allows us flexibility unique to our program.
Is ChiroThin Safe?
ChiroThin is extremely safe. Currently there are no known established clinical side effects.
What is ChiroThin and how does it work?
ChiroThin contains a natural hormone produced in the body. It has many functions and is used medically to treat a variety of conditions. This hormone allows the body to metabolize fat and use it as energy. This acts as a "fail-safe" mechanism when energy is needed immediately.
Will my metabolism slow down if I am on a very low calorie diet?
It is true that normally when cutting back on calories and fat, our body stores fat and our metabolism slows down. This happens because fat is really a life-saving source of stored energy. When a very low calorie diet is used in conjunction with the ChiroThin, the hormone signals the body to used stored fat for energy, and will eliminate excess fat reserves. It is a natural process, so no ill effects on your metabolism will result.
Wouldn't I lose the same amount of weight eating a very low calorie diet without ChiroThin?
You can lose weight simply by eating fewer calories and fat, but because the body stores fat during times of deprivation, you will most likely lose muscle and bone before fat. This causes cellular metabolism to slow down, so in the long run, it would make gaining weight easier, as well as decrease bone density and muscle mass.
Will ChiroThin interfere with any medications I am currently taking? What about birth control pills or Depo-Provera injections?
Homeopathic ChiroThin formulas do not interact with ANY medications, including birth control pills or Depo-Provera. Even though there are currently NO clinically proven side effects to our Homeopathic weight loss formula, as with any diet we do require consulting with Dr Salinas to make sure this diet is for you.
Can I exercise daily?
If you must exercise, low key exercise only. You can do about 20 minutes of walking a day and a few sit ups or push-ups if you feel that is needed. Exercise burns calories and therefore causes your hunger to increase. The combination of low calorie intake and exercise could cause your body to go into starvation mode. This can negatively impact your stamina and commitment to the diet. So take it easy. And remember, you will be losing fat. So when you do go back to the gym, it's a skinner, more energetic you!
How do I learn more about ChiroThin and if this is right for me?
Dr. Salinas offers a no obligation workshop. At this workshop, Dr Salinas will detail the ChiroThin program and answer any questions you may have. Together Dr. Salinas and you can determine if our program fits your health goals and if you qualify for our unique program. When we begin on the journey to better health your specific ChiroThin program is closely monitored by Dr. Salinas from start to finish.
Please contact the office at 815-562-6661 for more details or information regarding workshops.